Make your workplace more productive
It's time to make your workplace more productive. Create an engaging environment for customers and your team. New research shows they work quicker in an enriched environment. They're happier and have fewer health complaints.
We've invested in cutting-edge technology and this entire décor range is made in our own factories. You'll be surprised at just how much of your space can be branded. It's never been easier to create Spectacular Spaces.
Let's go!
Walls
Brand your walls
Your walls provide the biggest canvas in your rooms. And big spaces can have big impact. Use your walls to explain your story, your journey and your brand. To visitors, to clients and to your team. Create an immersive experience and make your space more engaging. It makes financial sense. Research has shown that good office design reduces absenteeism and makes people happier.
If you're too shy for full wall covering, our acrylic displays are an elegant alternative. Choose between regular 3mm or luxury 5mm thick acrylic. One thing's for certain, your workplace will be inspirational.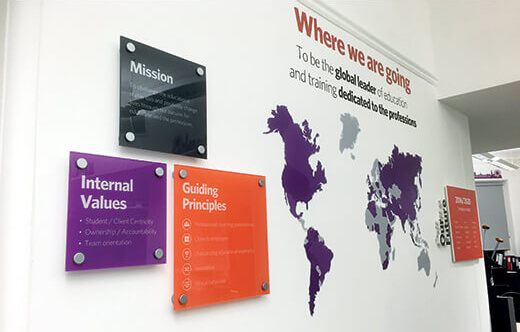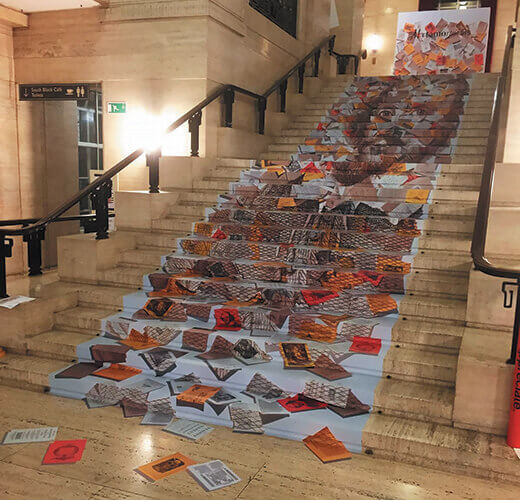 Floors
Step on it, step it up
Hopefully you've got the picture by now. Just about any surface can be branded. Why use floor graphics? They're neat for navigation. Guide people in the right direction. Simple rectangles are the lowest price, but it really doesn't cost much more to make a simple shape.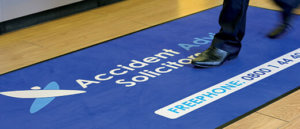 Our self-adhesive floor vinyl is suitable for hard floors or carpet. Just peel and apply vinyl directly to the surface. It depends how much traffic your space has, but the graphic should last for a few months with regular footfall. To increase longevity, we add a non-slip laminate to protect the surface.
Why not customise your entrance? Print your logo or welcome message on a floor Logo Mat. Immediately put people in the right frame of mind by printing an unexpected message.
Ceilings
Raise the roof
Why live with boring ceiling tiles? Now it's possible to brand your roof. We print directly onto standard suspended ceiling tiles. Each tile is 595x595mm which fits into a regular 600x600mm grid. Measure your tiles before you start, to make sure you've not got some weird size. Either print multiple copies of the same design, or go the full hog and have every tile with a different design. An adult that is good at DIY can cut these tiles to size. Do your full roof or replace those individual stained tiles with a scattering of your logo. There are no longer any limits to making your entire workplace inspirational.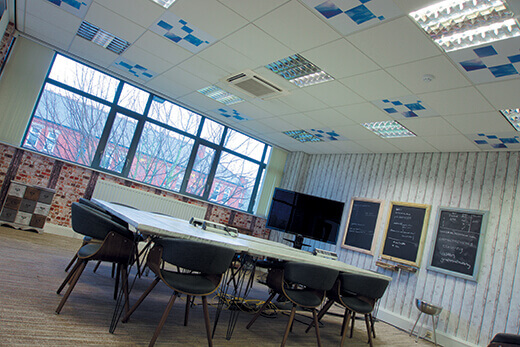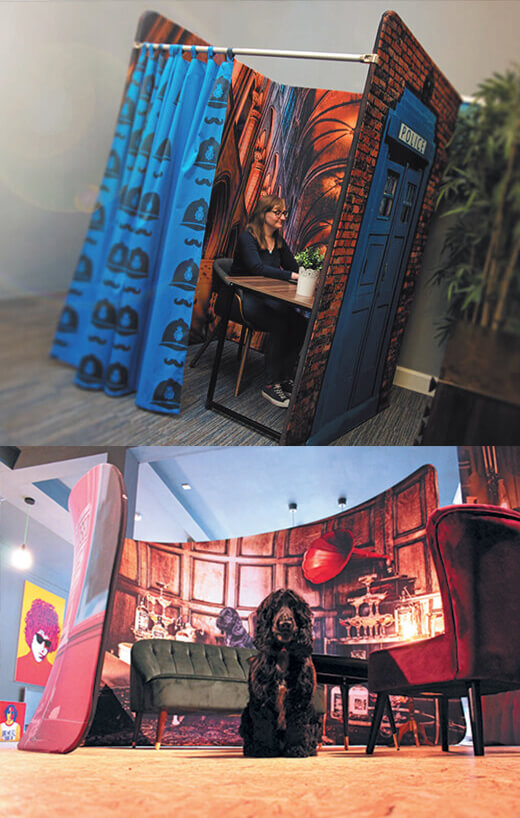 Booths
Not a slippery slope
Our booths are dual purpose. They make cosy meeting areas and double-up as backdrops for exhibitions. Inside each is an aluminium skeleton, which clips together in less than ten minutes. Then slide the enormous fabric skin over and zip up. The whole thing collapses into a carry bag, which fits easily in your car boot.
Use both sides of the booth. Let your imagination go wild. They look best when you treat the outside as the external view and then something different inside. Think castle wall, space ship or bunker on the outside. Then make the interior feel like you've stepped into a cosy space.
Our brand new and exclusive, Modesto booths are multi-purpose. Use them as private webex booths, intimate meeting rooms, polling stations or changing cubicles. Closed on three sides, with a sliding curtain on the front. These look best if you design the curtain to accent the main design, rather than trying to make a continuous graphic.
Customers see these booths. They fall in love with them, and they ask us "what would you do if you were me?" … Well we've designed loads of them. We have a range of fantastic stock designs, or ask our team to come up with some unique suggestions. Each booth has an inside and outside – so make the most of both sides.
There's serious purpose to this frivolity. It will encourage creative thinking and sparks imagination within your workplace.
Partitions
Divide and conquer your room
Open plan is so last decade. Studies have shown that breaking up spaces can improve productivity and reduce stress in the workplace. But that doesn't mean you need to call the builders in. Fabric displays make excellent room dividers. Each side can be printed with a different design so you can theme two different areas with a single display by using both sides.
As an extra bonus, fabric has natural acoustic properties and helps to reduce clatter and clanging, particularly in areas with wooden or hard floors and one more thing. Going to an event? Include your logo on the design and take it with you as a backdrop. You don't even need a frame to create a partition. Use a curtain rail and suspend lengths of fabric to make translucent curtains.
Flag material is really low cost and has a nice see-through effect. Available in virtually any length in widths of up to 2.9m, perfect for period properties or big windows. Create some privacy from the outside world and use it to hide ugly windows. Available unfinished as standard, or optionally hemmed with eyelets to hang from curtain hooks.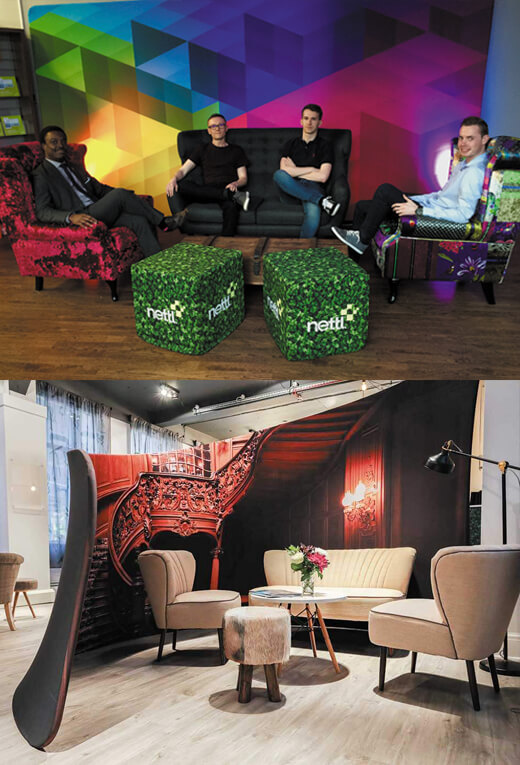 Would you like to find out more about how we can brighten up your workplace?
Book your FREE 45 minute consultation now